---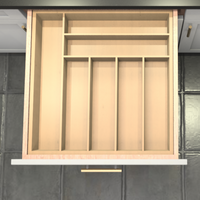 Thrilled - Repeat Buyer
Wow! The drawer inserts are made to perfection! Gary packs the inserts to protect from any possible damage. I was so impressed and will be placing another order this week. Thank you so very much!
Beautiful insert for kitchen drawer
I had an adjustable-width plastic utensil holder that was functional, but flimsy and unattractive. My new DrawerSpace insert is custom fit, sturdy, and absolutely beautiful. I measured the drawer myself at first, but then saw in the instructional video that there was an automated process, so I did that, too: printed a special sheet from the website, took out the drawer, put the sheet in it, took a picture from above, then uploaded. Easy peasy, and the insert fit like a glove. Highly recommended!
Cabinet drawer organizer with one space that runs front to back, custom made for the size of your drawer. This front to back space is 3-7/8" wide. There are two horizontal spaces at the right-rear, and four front-to back spaces at the right-rear, which vary with the size of your drawer  There are seven total spaces.
The height is fixed at just under 3" high (2.905"), which will be optimal for most drawers.